Home prices increased year-over-year 6.8% country wide in February. However, home prices in Dallas increased 9.6% compared to a year ago. This increase places Dallas second to Denver who had a 11.4% increase year-over-year according to CoreLogic.
The Houston Metro Area was more inline with historical Texas appreciation values at 5.3%
Other metro areas seeing home price increases were Miami & San Francisco with 8.7% and 8.3% respectively.
Contributing factors to higher home prices in Dallas are tight inventory levels, a continued low mortgage interest rate and the influx of corporate relocations to the Dallas Metro Area. This is resulting in huge population gains in the area as well. Nearly 80,000 people moved to Dallas Metro Area last year.
"Home prices continue to rise across the U.S., with every state posting year-over-year gains during the last 12 months," Anand Nallathambi, president and CEO of CoreLogic, said in the report. "Improved economic conditions and tight inventories continue to drive exceptionally strong gains in many markets, especially for homes priced below $500,000."
If you're considering buying, selling or renting in the Dallas Area contact me. I'm here to help.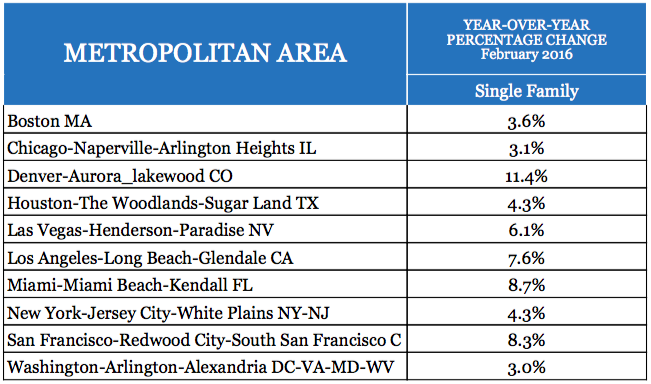 *Data courtesy CoreLogic U.S. Home Price Insights Report February 2016